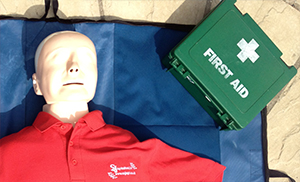 Important Changes to First Aid Training Regulation
You may be aware that following a recent government review, changes are taking place to remove the direct approval of first aid training providers by the Health and Safety Executive (HSE). This significant change happened in October 2013, following HSE Board and ministerial approval.
What does this mean for employers?
Now the proposed changes have taken effect, the responsibility of ensuring the quality of first aid training has moved to you, the employer. Draft guidance published by the HSE covers six pages of due diligence (reasonable investigation) that an employer should undertake if they choose unregulated first aid training. This includes checks on the competency of trainers, internal quality assurers and more.
Now here's the good news…
If your first aiders undertake Regulated First Aid Qualifications (national qualifications accredited by an Ofqual or SQA recognised Awarding Organisation), the guidance is clear that you don't have to undertake any of this lengthy due diligence process.
In short, Regulated Qualifications have the "Ofqual" or "SQA" logo on certificates, so a HSE inspector will accept this for the purposes of the first aid regulations. No due diligence evidence will be required.
We have been proactive in addressing these changes, so ScJ Training is already a registered centre with Qualsafe Awards, a leading Ofqual recognised Awarding Organisation in first aid. We are already delivering the new regulated qualifications with very positive feedback from students.
And more good news!
As the Emergency First Aid in the Workplace unit is part of the FAW qualification, candidates can choose to undertake the full FAW qualification by completing the further unit in Managing Illness and Injury in the Workplace. To be awarded the full FAW Qualification however the  second unit assessment must be completed within 10 weeks of achieving the EFAW qualification.
This is a great opportunity for our customers to ensure that their candidates receive the correct qualification for their workplace needs. It also offers candidates and employers a cost effective and time efficient route to enhancing their first aiders' skills and knowledge.
Regulated First Aid Qualifications are not only accepted by the HSE right now – you can be confident that they will meet your future legal requirements too.
So sit back and relax… your first aiders are already receiving the new "platinum standard" in first aid training, from a training company that you trust.
Please don't hesitate to contact us if you have any questions.
Click here to down load a PDF of this document.