First Aid Training
ScJ Training is a registered centre with Qualsafe Awards – Centre Number 904770 and is able to deliver a complete range of First Aid Courses to suit your needs, be they in the workplace, voluntary sector or because you feel that you should have some form of First Aid Training.
Recently we have added our own -F / Forestry First Aid Course for those working with chainsaws or forestry machinery.
Our instructors deliver this course in a dynamic way by relating the learning to the specific workplace, thereby making it not only relevant but interesting as well.
We have all heard stories of first instructors spending the whole course talking about what they have done and their opinions! Our instructors are not full of their own self importance and will go that extra bit further to ensure all candidates gain the knowledge they require in a fun and safe training environment.
We have a new online calculator that can be used. Please click the calculator icon below to access it (if you need assistance with your risk assessment please contact us as we would be happy to help).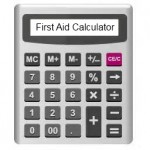 Available Courses
Emergency First Aid at Work
View Course
First Aid at Work
View Course
-F / Forestry First Aid
View Course
First Aid at Work – 2 Day Re-qualification
View Course
Cardiopulmonary Resuscitation & Automated External Defibrillation
View Course
AED Resuscitation
View Course
Activity First Aid
View Course